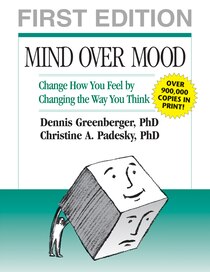 Authors: Dennis Greenberger and Christine Padesky. Guilford Press (1995).

Mind over Mood: Change How You Feel by Changing the Way You Think is a classic among cognitive therapy workbooks. The world renowned and highly accomplished clinician-authors present step-by-step instructions to help readers learn to cope with the symptoms of depression, anxiety, anger, shame, low self-esteem and problems in relationships. It begins with a description of the cognitive model, explaining that thoughts, feelings and behaviours are interrelated and influenced by daily life events. From there, it goes on to teach a variety of tools readers can use to change their lives. It is easy to read and carries the examples of three individuals throughout the book to illustrate the entire range of coping tools.
Its simplicity and ease of use are two reasons why this book is such a valuable resource. The authors gently guide readers through the initial processes of learning to see how upsetting thoughts affect feelings and actions, and into the more difficult tasks of beginning to challenge the validity and usefulness of those thoughts. The book helps readers to explore the historical origins of their negative self-concepts and to begin making changes in behaviour to improve self-esteem and eventually enable readers to get where they want to be. Worksheets are ready to be copied for practice in the real world and each follows examples that show exactly how to use the skills, gradually building towards the goal of effective coping.
Mind Over Mood is one of the most commonly referred self-help workbooks because it is easy to use and yields results when the exercises are followed. Also, because it provides such detailed instruction it can be a useful supplement to sessions with your therapist, keeping you on track and moving forward between therapy sessions.
www.shiftct.com
Shift Cognitive Therapy Oakville is a psychology practice with a focus on change.