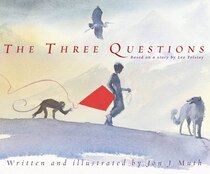 Author: Jon J Muth. Scholastic (2002).
Based on a story of the same name by Russian novelist Leo Tolstoy, Jon J Muth's The Three Questions
invites readers to consider the very big mystery of why we are all here. Intended as a children's book, but one that can be enjoyed by adults as well, Muth tells the story of a boy named Nikolai who is unsure about the right way to act. He looks to his animal friends for answers to three nagging questions: 'When is the best time to do things?' 'Who is the most important one?' and 'What is the right thing to do?' Each friend has their own ideas but it isn't until Nikolai is faced with the challenge of helping someone else (in this case a mother panda and her baby) that he discovers his own answers.
The book features Muth's signature style of water colour illustrations and is one of his many works that presents complex Zen Buddhist philosophies in ways that are accessible and easy for readers of all ages to grasp. His other series of books features Stillwater the panda and include Zen Shorts
, Zen Ties and Zen Ghosts
. They are at once beautiful pieces of artwork and invitations to reflect on our own beliefs and the ways we choose to relate to other people. It is through this same lens that The Three Questions
crosses the line between children's book and useful clinical tool.
Common to each of anxiety, worry and depression is the tendency to ruminate, that is, to get lost within our own thoughts, to dwell on the possibility of future concerns, to get stuck in endless loops of doubt and dread and, in the process, lose touch with the real opportunities for calm and connection that are always right there in front of us. In answering Nikolai's three questions, Muth offers a simple set of lessons that, when practiced, provides an escape from the ruminative traps of anxiety and depression and an opportunity to reconnect with the present moment and those things that really matter.
www.shiftct.com
Shift Cognitive Therapy Oakville is a psychology practice with a focus on anxiety, depression and change.